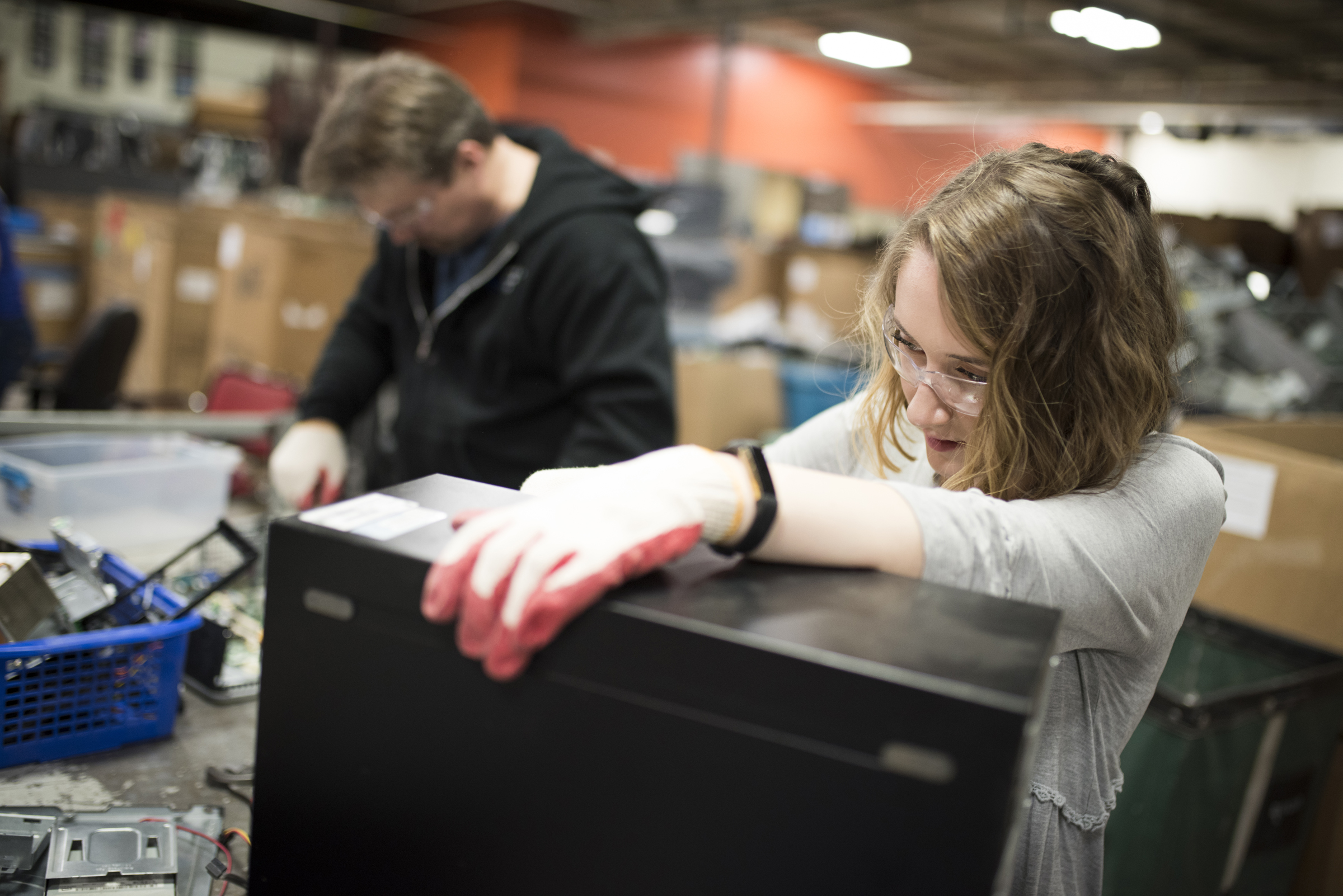 Volunteers play a critical role here at Comprenew and we could use your help! We are seeking motivated individuals interested in helping us dismantle computers and other electronics for recycling. In exchange for 40 hours of volunteer work, Comprenew will provide a voucher for one free computer loaded with Windows 10.
We are committed to creating a safe and welcoming space for all people, and make every effort to accommodate all ages, backgrounds, and abilities. No computer knowledge or experience is required; we will give you everything you need to get started. To receive a free computer voucher, volunteers must complete 40 hours of work within 6 months of their start date. Comprenew accepts volunteers 9AM-4PM Monday through Friday, with occasional weekend and evening dates each month.
This exciting new program expands the Comprenew mission to improve digital access in our community.  In 2016, Grand Rapids Public Schools conducted a survey which revealed that 25% of families in their district did not have a home computer. Research has shown that lack of access to home technology can hinder education and socio-economic status, further widening the digital divide in our community.
Comprenew started addressing this need in 2015 by offering Comprenew Connect, a computer literacy program aimed to help low-income people learn to operate computer technology, with an opportunity to purchase a heavily discounted computer upon completion of the class. This program has continued to be successful and will remain available to the community.
It became clear in recent years that certain populations with adequate computer knowledge needed an option for free or discounted hardware, without the Comprenew Connect digital literacy coursework. Thus, our new Volunteer for a Computer program was born to meet this need in our community.
The free computer voucher could be used to cover the cost of a standard desktop computer package, which includes: Windows 10, Microsoft Office, an extended 1-year warranty, and necessary computer accessories. It could also be used for up to $180 off of a laptop computer. All 3 Comprenew retail locations will accept these vouchers.
To learn more about our outreach programs, please contact Erin Donnelly at 616-988-8282 or edonnelly@comprenew.org.